Oct 16 2017


Walt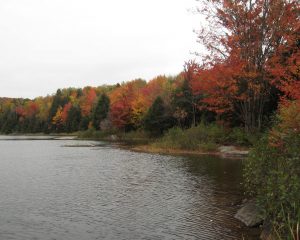 Sunday evening I slid into a funk and my wife Judy had to deal with me. Once she realized how deep my funk was, she emailed me the info for Milton Pond. When I get this way, the only solution is a good hike.
Milton Pond is located in Milton Town Forest. I'm all the time complaining that I've hiked everything close to home, but somehow I missed this place. When I parked my car at the Carriage Barn trailhead, I knew why. It's not well marked and easy to miss.
The trail itself is very well marked, almost to a fault. It crosses a field, enters the woods then soon reaches Milton Pond. Passing maple sugar lines along the way, I got the feeling that this place isn't so wild. There are power lines crossing the pond as well. But the fall foliage was beautiful and I had the place all to myself – just me and my dog Matika that is.
I hiked the trail circumnavigating the pond, which is a little over two miles. While it showed some signs of wear, it became clear to me that this town forest is a fairly well kept secret. On the far side of the pond, I took a side trail down to its edge for the view. I stumbled upon a beaver lodge there that Matika found very interesting. But I quickly became chilled in the cool autumn air so I urged her to keep moving.
The terrain becomes a bit more rugged on the east side of the pond. There I felt the wildness stir within me despite the syrup lines, power lines, and new trail signs. When that happens, I know I'm onto something. So I made a mental note to come back here soon and hike the rest of the trails in this area. It's always good to have a new place to hike.
No responses yet