Mar 08 2023


Walt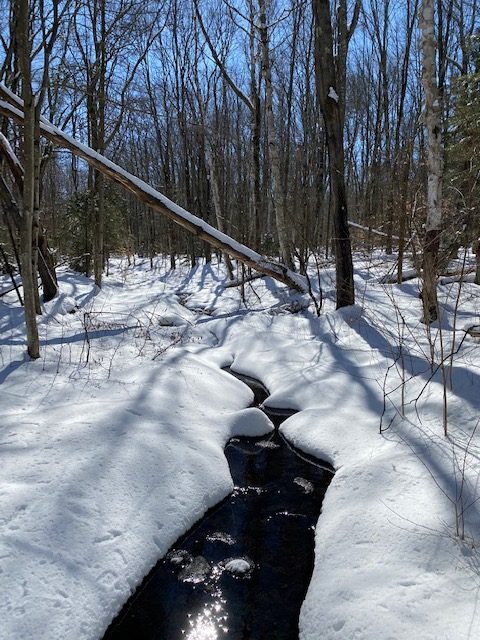 Last week I went into the mountains with my snowshoes, but when I saw how little snow there was on the ground, I left them in my car. A mile and a half back, though, the snow was over half a foot deep. That made for a somewhat rigorous hike, post-holing most of the way. Hmm… with temps above freezing, I would have been lifting a lot of heavy snow had I been wearing the snowshoes. It was a tough call.
A couple days ago, after a late winter storm had dumped another half foot of the white stuff, I went out again. This time there was plenty of snow on the ground, but the trail had been packed down by weekenders, so it was pointless to put on my snowshoes. Once again, I walked instead.
Even though it has been a mild winter, spring has not yet arrived. That said, there are sure signs that it's right around the corner. Woodpeckers are knocking on hollow trees, the days are over eleven hours long, and the sun on cloudless days is very strong. I stopped on a footbridge during my walk to relish the open leads of water in the rivulet below. A few more days with temps above freezing could melt away all the snow around me. Some years it happens fast.
I'm looking forward to tramping in cold mud again but walking through the woods on a sunny day without sinking into the snow is pleasant enough. And the forest silence always works its magic no matter what time of year it is. Breathing fresh air, stretching my legs, and running wild for a couple hours – sometimes that's all it takes to make my day. It's a good thing to be alive and well in Vermont woods when the sap is running, even if you don't tap into a maple tree.
Comments Off on Walking on Snow