Feb 19 2018


Walt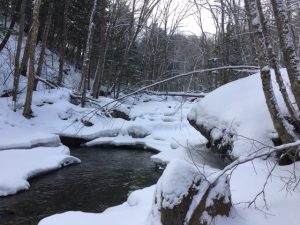 Even though I enjoy tramping around local woods, there comes a time when I need a day in the mountains. That day came yesterday, after I'd done all the work that I needed to do for the week.
My dog Matika was all excited when I pulled out my pack, of course. It had been a while since we had last escaped the developed lowlands – longer than I care to admit.
After leaving my car at the bottom of Honey Hollow, I strapped on my snowshoes. Only a few inches of powdery snow covered the road leading up into the hollow, but I figured the 'shoes would come in handy once I left the road. Twenty minutes later, I bushwhacked down to the brook without breaking through the snow crust beneath the powder. Matika, right on my heels, didn't sink in either.
The rumble of distant traffic faded until there was only the sound of the mountain brook gurgling beneath the ice. While following the brook, I spotted open leads of water here and there. The occasional gust of wind shook snow from the tree boughs. The conifers added a little green to this otherwise brown and white world. The mottled grey clouds overhead broke open every once in a while, exposing patches of blue sky.
I followed a set of wildcat tracks partially obscured by overnight snowfall. It seemed to know the best route through the woods. Once I'd gone far enough, I tossed a foam pad on the snow then sat against a tree, grooving on the pristine beauty of the wintry scene before me. Matika chewed on a stick once the snacks ran out. Always the writer, I jotted a few thoughts in a field journal. Once it was too cold to sit still, I got moving again.
Snowshoeing up into the hollow was tough going, but the way out seemed effortless. I cut my pace, stopping several times to enjoy the snow-covered forest. All the same, the car appeared before I was ready to quit the woods. So I resolved to get into the mountains again, as soon as possible. It'll probably be spring or close to it by the time I do so.
Comments Off on Snowshoeing in the Mountains