Oct 24 2020


Walt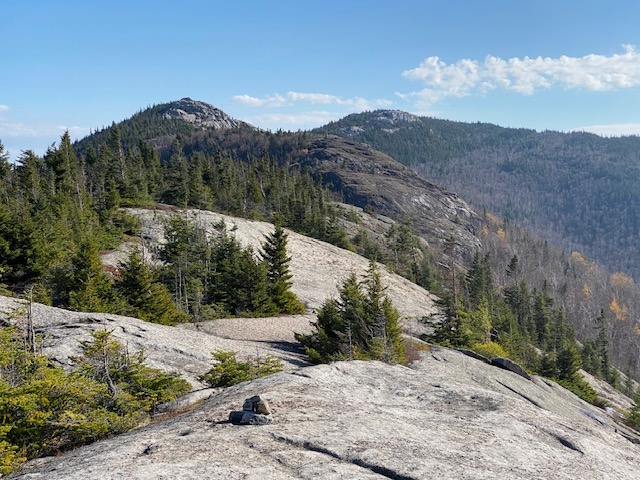 At Judy's urging, I stepped away from my literary work yesterday and headed for the Adirondacks to do a day hike. With sunny skies and temps ranging up towards 70 degrees, it would probably be the last nice day this year. Best to take full advantage of it.
I reached the Jay Mountain Wilderness trailhead by 8 a.m. and immediately shot up the trail. My walking stick clicked against the rocks as I kicked up fallen leaves. In my pack I carried everything necessary to spend a night in the woods if it came to that. At my age, you can't be too cautious.
After an hour of steady uphill hiking, I finally caught a glimpse of my destination: the western lookout on the Jay Mountain Ridge. It looked to be another thousand feet up. A short water break and a deep breath later, I ventured forth.
My legs were just starting to cramp up as I mounted the 3000-foot ridge. I walked a couple hundred feet up a side trail to the lookout for a magnificent 360-degree view of the surrounding landscape. Then, after another short break, I headed east along the ridge, determined to go as far as I could before my legs actually did cramp up.
Remarkably enough, I made it all the way to an unnamed, craggy peak without any cramping. It was a hard traverse up and down lesser peaks along the ridge, but the great views kept me spellbound. Only half a mile short of the summit, I decided to break for lunch. Afterward I retraced my steps back to the trailhead. Seven miles and over 2,000 feet of elevation change was plenty for this 60-something.
Today I'm sore all over but much more relaxed than I was earlier in the week. All the bad news I read about this morning rolled right off me. Whatever. After spending a good day in the wild, the collective folly of humankind doesn't have the sticking power that it usually has. That alone is reason enough to do a long, hard hike.
Comments Off on On Jay Mountain Ridge