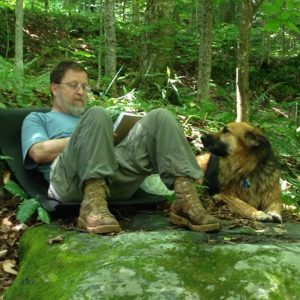 Walt McLaughlin wanders about the wild country of northern New England and upstate New York whenever he isn't at home writing or running a small press called Wood Thrush Books. A collection of his essays, Cultivating the Wildness Within, was published by Red Dragonfly Press in 2016. His narrative about hiking Vermont's Long Trail, Forest Under My Fingernails, is also in print, along with a dozen other books. McLaughlin holds a degree in philosophy from Ohio University but insists that most of his thoughts concerning God, humankind and nature come from encounters with the wild itself. He lives in Swanton, Vermont with his wife, Judy.
More information and externally published essays:
Walt Videotaped at Market Block Books
Feral on the Northville/Placid Trail
Author takes readers on 2-week hike in woods
North Country Public Radio interview
13 responses so far
13 Responses to "About"
Judy

on 18 Apr 2008 at 5:22 pm

1

Is Judy the one with the floppy ears? 😉

Hi, Walt!! Received your snail mail and unaccustomed as I am to blogging (and wish to remain that way), it was easy to weaken and check yours out. I just printed it all out and will sit and read after "60 Minutes" tonight (you will bring me needed relief from the investigative revelations!). Not sure how much I will contribute as I spend as little time at the keyboard as I can…and…somehow I can't visualize you sitting in the deep woods with a laptop…unless you can use it for kindling! Anyway, good luck with the effort!!

From Cary, NC

Ron, your hunch is right. I don't own a laptop, but if I did I wouldn't take it into the woods. If I was perchance foolish enough to take one into the woods, it probably would end up as kindling. The less techie toys in the woods, the better.

James W. Jones

on 17 Aug 2008 at 7:04 pm

4

Hi, Walt, Your direct mail campaign led me to buy two books directly from you, and to check out Heron Dance for another copy of Forest Under My Fingernails. I had given my copy to my nephew, and wanted to reread it and have a copy of my own. Lo and behold, Heron Dance is selling the book for a very attractive price, so I bought three. I have also enjoyed rereading Arguing With The Wind. I hope you are headed for a big patch of road and gizmo-free land, soon!

James, thanks for your continued support. Yeah, Heron Dance has lowered the price on my Long Trail book. You were smart to take advantage of it. As for me, well, I'll get into a big patch of wild country soon enough.

Ranger Sven

on 30 Aug 2008 at 4:35 pm

6

Hey, Walt…!!!

Nice blog…!!! Should get some of your Alaska pics posted here. Forest Under my Fingernails is an outstanding read…! Keep writin'… And as you know by now—"The Truth is Outside…!"

Rick Cary

on 10 Aug 2011 at 9:07 am

7

Hi Walt,

I absolutely loved your article "Galaxy Hunting" in the August edition of Sky & Telescope. I feel like I couldn't written it myself but since you did it so much better than I could, why should I bother. I have been interested in astronomy for as long as I remember. I love every visual aspect of astronomy from seeing the rings of Saturn, Jupiter's bands and 4 main moons, the glorious globular cluster M13 and many of my favorite planetary nebulaes such as the Dumbell Nebula and the Ring Nebula.

However, like you, I am most deeply drawn to the galaxies. Many of the other objects that I have listed certainly can be visually more stunning. To truly appreciate the galaxies, one has to know WHAT they are and how LARGE they are. Among my favorites are, of course, M81 and M82, M31 (so important in the history of astronomy), M51, M65 & M66. If you haven't seen it, try and find NGC4565 near Coma Berenices…though it's probably too late in the year for that. It's a beautiful edge-on spiral…maybe the best one. We live in a beautiful universe and on so many different levels. But, for me, there is just something special about the galaxies. I think it's because, in all probability, intelligent beings live in most of them and could very well be looking back at me through some telescopic device. Or at the very least, their enormous sizes and the enormous numbers of them gives a real sense of just how BIG the universe is. Again, I loved your article…I cut it out and saved it. Certainly, a job well done.

Sarah

on 01 Mar 2013 at 2:39 pm

8

Hi there, I happened upon your blog today when I was trying to research Aldis Hill. I moved nearby with my family less than a year ago and really want to hike up Aldis Hill, but I can't seem to find out where the trail(s) start(s). Any chance you can help? I am familiar with Hard'Ack and have hiked a bit there but not made it all the way up and over to the other side of the hill. Thank you for your time! I'll have to check in again from time to time. It's always good to read from someone who shares the same appreciation for the outdoors (and photography).

Sarah, I'll send you directions.

Holly

on 22 Jul 2013 at 3:42 pm

10

Hi, Walt!

Just started The Allure of Deep Woods. I'm 65, and it's sort of my dream to hike the NPT. I've made a couple of tentative tiptoe ventures from Upper Benson toward the Silver Lake shelter but no overnights yet. Might do it as a section hike or get really bold and plan a drop box or two for a thruhike. No 50 lb. pack for this girl. About 30, no more than 35, and less if I can get away with it!

Looking forward to reading the rest of the book tonight. I think we go into the wilderness for many of the same reasons.

Hi, Walt!

I went to read Woodswanderer again. Glad I did.

Please see my registration for my new contact email. Best not to send me any postal mail for now. The previous Boston addresses have been retired. I'm in Southbridge, MA for now.

Email me, though!

James

Ralph Wahlert

on 17 Apr 2014 at 11:56 am

12

Hi Walt.

Just finished reading "Allure of the Deep Woods" this morning. Reading "Forest Under My Finger Nails" gave me the idea to hike the NPT, and I discovered your latest book about your walk through the woods. I thought this would be a good book to give me an idea as to what I could expect, along with the ADK NPT trail guide.

I've never done a long hike like that but have done many multi-night trips in the past. I too am in my fifties, and want to feel the solitude of the deep woods and challenge myself.

I enjoy your writing style and share your feeling about wilderness.

Ralph

It was good to make your acquaintance and to share thoughts about the mysteries of life. My first instinct when I found your website was to gravitate to the About page. Now, I'm off to explore your observations.
Leave a Reply