Jun 28 2010


Walt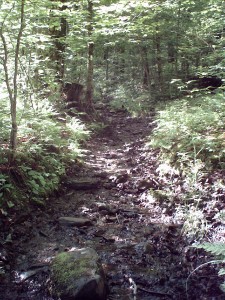 It's always a surprise to step into the woods on a sunny day only to find the trail all wet and muddy.  Oh yeah, that's right, the rain came down in buckets yesterday afternoon.  Besides, this month has been much wetter than usual.  And unlike pavement, fields and other open areas, the woods do not dry out quickly.  Sometimes it takes several days, a week or more.
The vegetation loves all this wetness, of course.  Moss, trees, ferns, wildflowers, bushes – everything around me was lush and happy as I hiked up Belvidere Mountain.  And mushrooms sprang up everywhere.  The wild forest loves to be wet.  Water brings it to life.  A red eft crawled underfoot as if to remind me that mud is good.  My dog, Matika, concurred.  A half hour into the hike, she was black from the chest down, and all smiles.
At first I dodged the muddiest places in the trail, hopped over the rivulets running every which way, and stepped onto flat rocks when I could, trying to stay clean.  Then I relaxed.  I let my boots and pants get wet and dirty.  I stopped cursing my fogged-up eyeglasses, and drank extra water to compensate for the sweat that wasn't evaporating.  I watched the steam rolling off my shirt whenever I took a break, and accepted it as a normal condition.
Near the top of the mountain, a wood thrush called out repeatedly.  That's always fortuitous.  Wet or dry, the wild woods are the place to be.  I placed my walking stick carefully as I negotiated slick roots and rocks.  Matika leaped ahead of me, surprisingly surefooted.  I reached the summit faster than expected, then marveled at the blue sky contradicting the damp forest.  Matika just smiled.  Yeah, any day in the woods is a good day as far as she's concerned, no matter what the trail is like.
The descent was a little stressful.  I worried about slipping and falling, but managed to get down without incident.  I cleaned up swamp dog the best I could when we reached the brook, getting myself a little wetter in the process.  But that didn't matter.  I knew I'd be clean and dry for the next two days, while working indoors.  "Enjoy the wetness while you can," I mumbled to myself.  Yeah, being wet and wild is a good thing.
Comments Off on Wet Woods