Jul 28 2022


Walt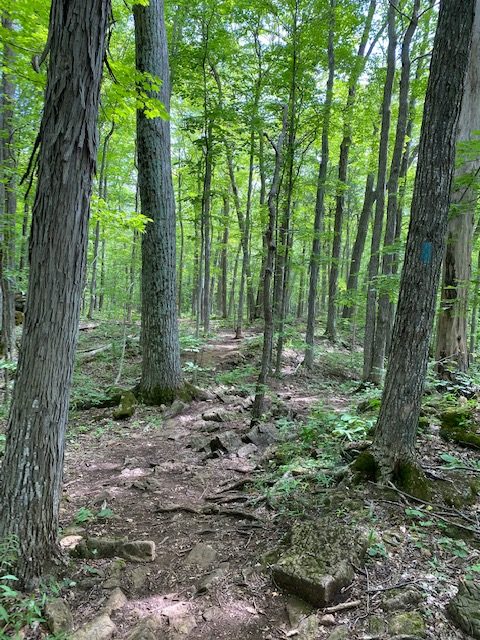 Sometimes I just have to drop everything and go. Yesterday I worked in my study from dawn until mid-afternoon, building up my online bookselling biz and putting together yet another WTB anthology of nature writing. But enough is enough. I shut down the desktop computer, pulled on my boots, and slipped out the door. Less than an hour later, I was tramping through the forest following a dusty, rock-strewn trail winding through the trees.
It felt good to stretch my legs, breathing heavily again. I hadn't planned on a vigorous hike but my body wanted it. With no wind, high humidity and temps in the 80s, I was sweating in no time despite the shade provided by the canopy overhead.
My eyes feasted on the endless green. The smell of midsummer vegetation and the soothing forest silence convinced me that I'd made the right call. A pileated woodpecker sang in the distance. A nearby hermit thrush serenaded me. Frogs croaked from the wetland I easily traversed, thanks to a boardwalk. And my highly organized morning thoughts gave way to afternoon daydreams.
When the trail started climbing steadily, I felt an overwhelming urge to hike as hard and fast as I could. There was no one around to hear my grunts and groans or to see me soaking my t-shirt. That had a lot to do with it. Sometimes I like to meander through the woods simply grooving on the wild. Other times I like to charge along a trail as if my life depended upon getting somewhere. It has nothing to do with any given destination and everything to do with wanting to feel fully alive and completely in the moment.
Late July already. Amazing. Summertime doesn't last long, especially in northern Vermont. As I returned to my parked car, I wondered what else I could do to make the most of these halcyon days. Winter is a good time of year for think work, no doubt. But in high summer, it's better to go outside and get physical.
Comments Off on High Summer Hike