Mar 25 2013


Walt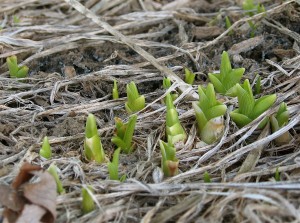 The green shoots of day lilies push up relentlessly through the half frozen soil in my front yard, as if seasonal change is inevitable. The tips of some are frostbitten, brown and withered, but they keep coming anyway. A recent big dump of snow convinces the winter weary among us that spring will never come. Yet in some ways it's already here.
The buds on the maple tree in my back yard are red and swollen. The sap has been running for weeks. A red-winged blackbird – migrating north to be sure – landed in it a few days ago. A cardinal sings loudly from the top of another tree, establishing his territory early. There are a lot of squirrel tracks in the snow now. The snow itself is slowly disappearing in a barely discernible melt-off driven more by sunlight than warm temperatures. Yeah, to those of us paying careful attention, the spring season has already begun.
"See how the snow is drying up?" I kept telling my wife Judy yesterday, to the point where she grew annoyed with me. I couldn't help myself. My favorite season is on the verge, and all I want to do is sing about it as the wild birds do. One daylong rain will make it obvious to everyone. The Vernal Equinox is behind us. The natural world is awakening from its long sleep.