Mar 06 2013


Walt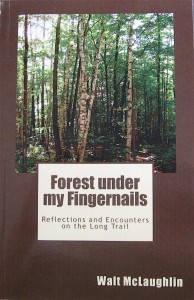 The Long Trail book, Forest under my Fingernails, is back in print! Three years after buying up the last copies of the Heron Dance edition, I have reprinted this hiking narrative under my own small press, Wood Thrush Books. It is now available at Amazon.com as either a paperback or a kindle download. Rod's illustrations are gone but the words are all there for any hiking enthusiast or nature lover to enjoy.
In the mid-90s, I had the distinct pleasure of backpacking Vermont's Long Trail end-to-end. The rather elaborate cache system that I devised kept me on the trail for the entire month. The experience was transforming. I managed somehow to capture it in my journals, then later in this narrative.
I couldn't be happier about having FUMF back in print. Its re-release is timely. My Adirondack hiking narrative, The Allure of Deep Woods, will soon be released. Those who enjoy that book will have something similar to read. Besides, the hiking season is right around the corner. What better way to prepare for it than to read something that elicits the sights, sounds and smells of the forest?
Those of you who have been following me through the years know that I have all sorts of books in print now: backcountry and travel narratives, poetry, philosophy, and assorted essays. I've edited several anthologies as well as the works of Emerson and Thoreau. But FUMF remains a favorite among readers. I'm sure that newcomers to my work will get a kick out of it.
No responses yet