Dec 23 2014


Walt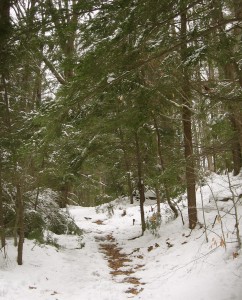 The cold, the snow, the darkness. Some people are so preoccupied by the holidays that they hardly notice it. Others live strictly indoor lives. What's going on outdoors matters little to them. Skiers are eternal optimists. All they see is an opportunity to glide down mountains in wintry glee. Then there are those of us who consider this time of year an ordeal.
The Microspikes that I pull over my boots make it easy to negotiate the snow-packed trail. It's almost as good as summer hiking. I skirt the few barren patches to keep from bending the spikes. Scrambling over ice is kind of fun. The spikes work well.
The cold is tolerable as long as I'm moving. Having a good base layer of clothing is key. My dog Matika has a heavy fur coat so she actually enjoys these frosty temps.
The darkness – ah, there's the rub. Around the Winter Solstice, it's pretty hard to take. But getting outdoors helps, even when the sky is endlessly overcast.
One thing is for certain: a December tramp is better than sitting around the house brooding.
Comments Off on December Tramping