Jul 21 2011


Walt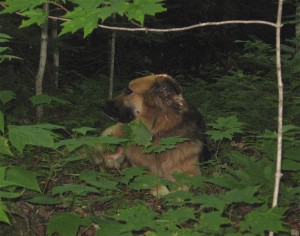 Every dog has a wild streak, I suppose, but Matika's seems wider than most.  Or perhaps I'm only projecting my own wildness upon her.  Either way, she always looks comfortable in the woods, resting yet vigilant a few yards beyond camp.  I look up from my campfire and, for a few seconds, I fear that she has wandered off.  Then I spot her half-hidden in the understory, perfectly at home.  Yeah, that's my dog.
I can relate.  I am never as comfortable in town as I am in the woods, miles away from the nearest road.  Most people think of time away from the amenities of civilization as "roughing it,"  but life in the woods is stress free compared to the alternative.  Ridiculously easy, I'd say, as long as there's a dry place to sleep and enough food to eat.  No doubt Matika, if she could talk, would concur.
Of course I go into the woods to relax, not to earn a living, so it only stands to reason that my perception of forest life is skewed.  Earning a living is hard.  Lounging amid the trees is easy.  This is a subject that that 19th century woods wanderer, Thoreau, never adequately addressed.  And I, like him, have never fully come to terms with it.
It's a dog's life, we say, when things get tough for our pets.  And during these sweltering, dog days of summer, I don't envy Matika when I leave her trapped in a house all day without air conditioning.  I may be just as cut off from the wild as she is, but at least I'll be staying relatively cool today.  That said, we'll both be daydreaming about a camp by the stream, immersed in green.  In that regard we share the same values, and the same fate.
Comments Off on Woods Dog