Jul 25 2013


Walt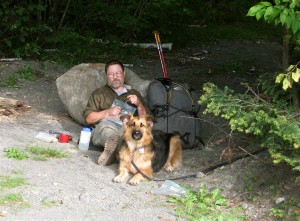 I stepped away from my desk this morning to go for a hike.  It wasn't a long hike – just long enough to remember who/what I am.
The moment I slipped into the woods I felt a tremendous sense of relief, as if a great weight had been lifted from my shoulders.  It's always this way.  I am a denizen of the forest, first and foremost. Not so much a trekker, naturalist or adventurer as a simple woods wanderer. I wander, then wonder, then sit down to write about it all.
The other day a newspaper writer asked me to send a photo of myself to to accompany a short news release about my new book. She wanted a shot of me backpacking through the woods – an action shot, I suppose, or something where I look the part. I sent her  a photo of me sitting against a rock at trail's end, instead. Lost in thought and scribbling in my journal, with by my dog Matika by my side. Yeah, that's who I am.
A big part of book promotion, or any kind of promotion for that matter, is branding the work and its creator. In our culture of media hype, this cannot be avoided. That said, it is important to remain true to oneself, otherwise one can quickly become lost. The forest keeps me oriented. I can't imagine trying to make sense of the world without it.
My dog knows who I am. She was with me during that grueling hike across the 100 Mile Wilderness. She has been with me on countless excursions since then. If she could be my publicist and speak for me, I'd be all set.
My wife Judy also knows who I am. After all, she's the one who took that photo of me at trail's end. She caught me by surprise that day, before I struck an inauthentic and self-conscious pose. Spouses are good at that.
Comments Off on Identity