Jul 17 2013


Walt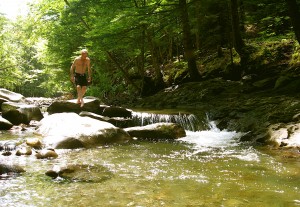 My brother Greg drove all the way from Ohio to visit Judy and me, and to reacquaint himself with Vermont. He lived here for several years so he knows well what this part of the country has to offer. Seeing waterfalls and mountains, and doing a little antique hunting were on his to do list, but when temperatures climbed into the 90s, a cool stream grew more appealing. We grabbed a picnic lunch and headed for one yesterday.
Judy had to work so she couldn't go. My dog Matika had nothing on her calendar, though. She was happy to escape the hot, stuffy house for a day. As soon as we reached the Brewster River, I tossed a tennis ball in the water and she went after it with a vengeance. Matika's not a big one for playing in the water, but she likes both playing ball and staying cool. I kept throwing the ball. She kept going in after it.
The Brewster River is more of a mountain stream than a river, actually. Its clear, cool water flows out of Smugglers Notch, making it a good place to be during a midsummer heat wave. The dozen cars in the parking lot convinced us that we weren't the only ones who had figured this out. No matter. We hiked in flip-flops up the trail following the stream until we found a nice pool to call our own. We didn't have to go far.
I gravitated to a small, sandy beach in the shade next to the pool. Greg went directly to the two-foot waterfall feeding the pool to groove on fast-moving water. We both got sufficiently wet then lounged on big flat rocks, completely chilled out. Yeah, this is the thing to do in Vermont on a hot summer day. Hard to beat. Leave the more sophisticated entertainments for another day.
One response so far
One Response to "Chilling Out"
With all VT has to offer – especially the mountain streams – it makes you wonder why anyone would ever leave VT for OH. Sounds like it was a perfect day.