Nov 29 2023


Walt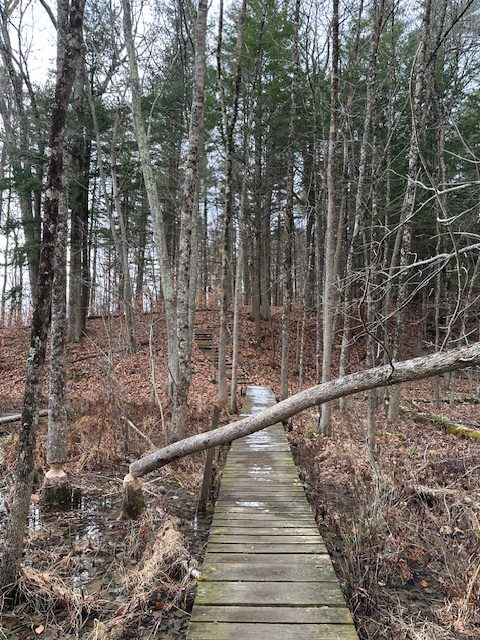 Sometimes hiking is a way to process my thoughts. Thinking goes well with walking, as Thoreau, Emerson, and so many others have preached. Other times a hike is just a hike – a way of getting out of my head. It all depends upon what precedes it, and what my frame of mind is at the time.
After writing an intense, philosophical essay yesterday, I took my wife's advice and headed for the woods. I desperately needed to put an end to thinking in abstractions, at least for the day and just be physical for a while. I didn't want to drive an hour into the mountains, though, so I settled for hiking at Niquette Bay State Park. It's only 25 minutes away.
The parking lot was nearly empty when I pulled into it. No doubt the dark clouds overhead and sudden flurry of sleet had something to do with that. With temps hovering around freezing and a brisk wind blowing, more sensible people were staying indoors. But I needed to be outdoors, and was glad to have the park largely to myself.
I took my time meandering around the park on the outermost loop, comfortable enough wearing a hat, gloves and four layers. I was surprised to see a small tree, gnawed by a beaver, blocking the wooden walkway across the small wetland. Why hadn't the park ranger removed it? Oh, that's right – the park is closed for the season. I climbed over it and continued my hike.
I stopped to check out the rippling waters of Lake Champlain from a small beach and stopped again at a lookout on high ground to see Mount Mansfield peeking through clouds in the distance. Got my boots dirty in the muddy spots of the not-yet-frozen ground. Yet another flurry of sleet commenced as I was finishing the walk. By then I had broken a sweat and was feeling the chill. No matter. I got a good woods-fix during my hike and was happy enough to be indoors the rest of the day. The next time I go out, there will probably be snow on the ground.