Nov 22 2016


Walt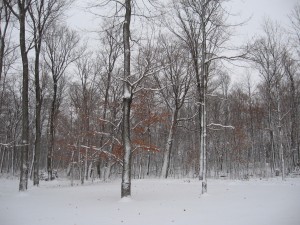 Even though the weather forecasters gave us plenty of warning, it still came as something of a surprise. Sunday's rain turned to snow. When I got out of bed yesterday, there were several inches of the white stuff on the ground and my plow guy was clearing the driveway. And this morning it's still snowing. Egads!
Because the wind is blowing, it's hard to say how much snow has fallen. A few stray leaves dance across the field of white that my back yard has become. Snow thrown against tree trunks stays there. Beautiful in a Nordic kind of way. The skiers must be ecstatic.
All bundled up, I shoveled a path to my front door roughly 48 hours after walking around in shirtsleeves, bagging leaves. It was still an unseasonably warm autumn on Saturday. Not any more. Now it looks and feels much like a typical Thanksgiving week here in northern New England. Just enough snow on the ground for the hunters to do their thing.
Never a big one for winter sports, I prefer being indoors this time of year, camped in front of the fire burning steadily in the corner stove. Lots of literary work to do, lots of pondering. That said, I won't be able to stay inside very long. Eventually the wild will call me out. Either that or my dog will start bugging me. Her thick coat was made for this kind of weather.
No doubt temps will rise again and today's snow will melt away before winter really strikes with a vengeance. Day-to-day and week-to-week, it's a roller coaster. But there's no mistaking what time of year it is. The cold, dark season is underway here in the North Country. The grey light in the late afternoon confirms that. So we brace ourselves for the inevitable. Which reminds me: I should dig out my gloves, and get those winter tires on the car. There's no time to lose.
Comments Off on Sudden Winter