Aug 27 2012


Walt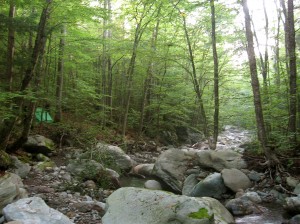 A few days ago, Judy and I went for an overnighter in the woods. Our work schedules aligned, making it possible. It was a bonus outing for me, and a much needed getaway for Judy. She hadn't been overnight in the woods in years.
We have a favorite camping spot along a mountain brook about an hour from home. It's less than a mile from the dirt road where we leave our car. Half that distance is a bushwhack, though, so the spot is very private. We've never seen another person there.
We didn't do much during our stay.  Judy read a book. I did a little fishing. We stared into a campfire, talked, and went for a dip in a nearby pool. Our dog Matika was with us, of course. She chased the chipmunks out of our camp then lounged about. All three of us slept well during the cool, dry August night.
Few bugs, great weather, and the constant rush of a small stream. Completely immersed in a green, leafy world. Can't imagine how things could have been better. These hybrid outings – part camping, part backpacking – suit our purposes well. We've learned how to make the most of them, anyhow.
We lingered the second day. Neither Judy nor I wanted to leave. Next year we'll make it two nights in the woods, but for now we are satisfied. It was a perfect time out.
Comments Off on Time Out