Aug 22 2012


Walt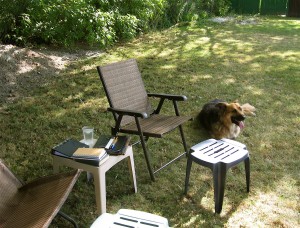 Contrary to the image that I create with this blog site, I'm not always on the move. Quite often I sit still – especially when I'm between busy shifts at the hotel. On those days, the shade beneath the old maple tree in my back yard is the place to be. Beats staying indoors, anyhow.
I usually have a small pile of books, notebooks and papers on the table next to me. I do a lot of light-duty literary work beneath the old maple: reading, letter writing, journaling, planning, and so on. Sometimes I just sit and think. Sometimes my dog Matika entices me to get up and throw the ball for her. On the weekends Judy joins me and we talk. I'm never bored.
A squirrel scurries along a nearby fence. Crickets chirp steadily. A cardinal or robin breaks into song every once in a while. The town bustles in the background. A gentle breeze rocks the rope swing dangling from a thick branch, reminding me of busier times with the grandkids. These are the sights and sounds of late summer, pleasant yet inducing a slight melancholy. Here in northern Vermont, the warm season is short indeed.
The writer's life is a contemplative one. This is true even for those of us who write about the great outdoors. Experiences have to be processed. Ideas need time to ferment. An essential part of woods wandering is not wandering at all.
No responses yet