May 20 2015


Walt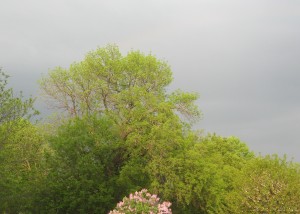 The sky breaks open just before dusk, giving the setting sun a chance to illuminate the verdure all around me. I haven't been paying close attention. Suddenly all the trees have leafed out, lilacs and crab apple trees are in full bloom, and air is full of birdsongs. Where have I been?
Hiking through the woods the other day, I found only a few violets and lilies in bloom. The canopy has closed already, bringing an end to the opportunism of the early spring wildflowers so thick on the forest floor. It all happens so quickly.
The mosquitoes are out now. I took a few hits the other day. A few drops of blood seem a small price to pay for the vernal beauty that is everywhere on display. Dark clouds gather but now they only mean one thing: a good watering. Suddenly I am living with the elements, not against them.
We live in a green world. This is not apparent in the depths of winter, but in May it is undeniable. I work some bark mulch around the plants in my flower garden, surprised by how much they've grown already. I hadn't noticed, until now. Nature steadily advances despite how distracted we are by other things. It seems a waste of time to do anything but revel in it.
Comments Off on Green World