Sep 20 2018


Walt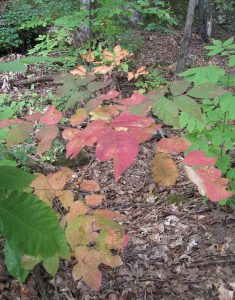 With the Autumnal Equinox fast approaching, I go for a walk in the woods to celebrate seasonal change. Yesterday's high was 85, but this morning I'm wearing a flannel shirt and barely breaking a sweat. My long-haired German shepherd isn't even panting. We both welcome the chill.
It's been a hot, dry summer here in northern Vermont with near-drought conditions. The run of 90-degree days back in July reminded me of my childhood in Ohio. Some of the flowers my wife and I planted in the spring have burned up. I've watered them more than usual but hesitate to do too much of that since the water comes from a well. No, I can't say I'm sad to see the warm season coming to an end.
There are patches of color in the forest understory but more brown in the leaves than usual. Overall the early fall foliage looks a little bleached out.  That could change dramatically during the next couple weeks. While more summer-like heat remains in the forecast, temps can drop fast like they did last night. This time of year is full of surprises.
During my walk, I spot the yellowish-brown leaves of false solomon's seal. Seems like I was watching the spring wildflowers bloom a short while ago. Yet here we are now on the other side of the growing season. With each passing year, it feels like summer goes by a little faster despite the number of hot days. But that's only how I perceive things in my advanced years. Nature has a different sense of time – one I can't even imagine.
Sunlight suddenly breaks through the canopy, illuminating the still mostly green forest. I was in a funk earlier this week, but now each step I take forward feels like affirmation that life is worth living. So it goes during every woods walk regardless of the season. The days are getting shorter but that's okay. The natural cycles are a good thing. I celebrate them, reveling in the present.
Comments Off on A Welcome Chill