Aug 26 2011


Walt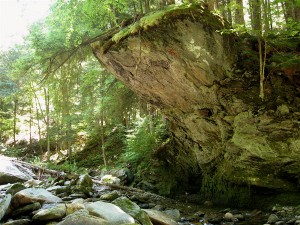 Some aspects of wild nature are more mesmerizing than others.  I can walk a trail all day long without seeing anything more than "the green tunnel," but a stream walk usually produces at least one geologic formation that gives pause. The most dramatic is a great fist of rock hanging over a favorite stream in northern Vermont – one that never fails to make me stop and think.  It appears at the end of a mile-long section of water that I often ply for trout.
More than once I have hiked to the overhang just to sit at its feet and question the ways of the world, much like a pilgrim seeking out a guru.  It never fails to impress.  Sometimes I ponder its incongruity, marveling at the fact that such a small stream could carve out a formidable wall of rock. Other times I wonder how many years will pass before the overhang collapses.  Either way, past or future, the rock's story dwarfs my own.
This unusual rock formation is not indicated on any maps that I know about.  Surely others have seen the overhang but I've never seen anyone else near it.  Nor has anyone I've talked to ever mentioned it to me.  Does it exist outside of my imagination?  The moment one asks that question, one has reached a sacred place.  So I often go to the overhang to exorcise my personal demons.  It's a good place for that.
Geo-logic.  The natural world makes sense in a way that mocks the human capacity to reason. Certain rock formations are especially good at this.  We are good at making tools, designing systems, building grand structures, and manipulating our environment.  But we often miss the obvious.  We fail to see the big picture, or simply ignore it.  We act as if a five-year plan is really thinking ahead, and relegate everything that happened fifty years ago to the history books.  But certain rock formations have been works-in-progress for millions of years.  More to the point, nothing about the natural world is static on a geological time scale.  Given enough days and nights, everything changes . . . and changes profoundly.
Newspapers are chock full of stories of little or no importance, yet my overhang tells a tale that everyone should take to heart.  I take it to heart, anyhow.  And when I walk away from it, all my troubles diminish.  It is good to think beyond the human scale of things every once in a while.  It's instructive.
Comments Off on Geologic