Sep 30 2014


Walt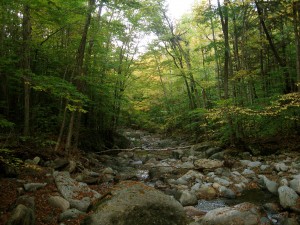 At long last, Judy and I went for an overnighter. We had planned on doing so this summer, and had tried again Labor Day, but circumstances kept preventing it. No matter. With unseasonably warm temps holding, we cancelled appointments, shouldered our packs and slipped into the woods together.
We have a favorite spot next to a mountain brook where we like to camp. Although there's nothing special about it, we've infused the place with fond memories through the years. As a consequence it has become our number one destination whenever we feel the need to get away.
A hard September frost brought out autumnal color earlier than usual. The forest canopy was a beautiful mix of green and gold leaves. The stream, though running low, broke over and around rocks as it made its way downhill. The sound of it unraveled our nerves. We sat back and let rushing water work its magic.
As the forest filled with evening shadows, Judy and I conjured up a small campfire. We kept it going well past dinner – flickering flames dancing in the darkness. With each stick thrown on the fire we grew more reflective, more philosophical, slowly gaining perspective on the world beyond the forest. Campfire gazing is like that sometimes. While meaning with a capital "M" was not forthcoming, we went to bed with a better bead on things. And the incessant rush of the nearby stream washed away all worry.
The next day we sat all morning and part of the afternoon, tending the fire and listening to the brook. Eventually we broke camp and hiked out. Then we returned home refreshed, though we'd be hard pressed to explain why.  Every woods retreat is like that.  Simply reconnecting with the wild seems to do the trick.
Comments Off on Gaining Perspective