Sep 10 2014


Walt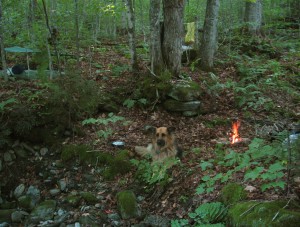 Monday morning I stuffed a few essentials into my rucksack and headed for the hills. I had plenty to do at home, but when the wild beckons the work can wait. I was overdue for a night alone in the woods.
I had my canine companion Matika with me, of course. Together we humped up the Long Trail two and a half miles from the trailhead parking lot to a small stream called French Hill Brook. From there we bushwhacked west, following the stream until I found a nice place to camp.
I didn't set up camp right away. Instead I left my rucksack leaning against a tree and fished the brook for a while. In most places the overhanging vegetation made it difficult to cast, but I stumbled upon a few large holes where I could present my fly properly. There a couple wild trout rose to it, taking me by surprise. I didn't expect to find 7 to 9-inch brookies this high up. I pulled them out of the water long enough to admire their beautiful markings then put them back.
I set up camp as late afternoon shadows overtook the forest. Matika lounged about, chewing on some of my firewood. Then I settled in for dinner and a little campfire meditation. The fire burned away all my concerns as I fed sticks into it. After the sun departed, a full moon rose into the cobalt sky. It's light filtered through the trees. A cool September breeze kicked up. In the cusp between summer and fall… I reveled in it.
Up at daybreak, I enjoyed a leisurely breakfast before breaking camp. The hike out was easy: downhill all the way. Soon I was back home and getting ready for a half-day shift at the store. No matter. I got my fix of wildness so I'm all set for a while.
One response so far
One Response to "Woods Retreat"
Bob Stanton

on 11 Sep 2014 at 12:24 am

1

That's the great thing about fish in general and brookies in particular: you never know where you'll find 'em. Sounds like a perfect over-nighter.