Sep 22 2014


Walt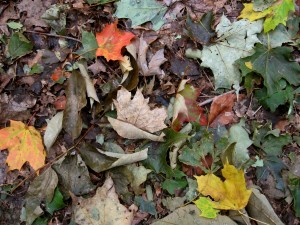 Strong winds the past few days have knocked leaves to the ground, making it clear at a glance exactly what time of year it is. The leaves are both green and colorful – both reminiscent of summer and harbingers of autumn.
Light and dark are in balance now, along with warmth and cold.  Since late August I have been bemoaning the passing of summer, which is always too short here in northern New England. But while meandering along a local trail, a part of me comes to accept it. After all, a fall forest has its delights. Best to look forward to that.
Autumnal Equinox. Already a hard frost has stricken my garden, and I've closed up my house more than once. During the day I open windows to catch the moody breezes, but at night I close them again. So it goes during these harvest days.
Soon I'll be hard at my literary work. I've already begun, actually. It's easy to sit down at my desk and write when it's chilly, raining and the wind is howling.  It will be even easier when the snow flies. But there are a few sunny, warm days ahead, no doubt. I'll be sure to put my pen aside when they come along.
One response so far
One Response to "Autumnal Equinox"
Bob Stanton

on 24 Sep 2014 at 1:41 am

1

Winter is a comin' pretty quickly, no doubt about it. The deer are sporting their winter coats already.