Jun 29 2011


Walt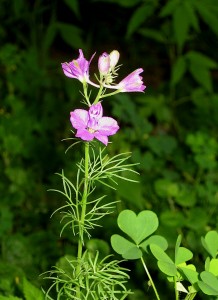 I looked in the dark, weedy corner of my back yard the other day and noticed that a newcomer had appeared.  The small, purple flower wasn't anything I'd seen before, I couldn't find it in my flower identification books, and I had no idea where it had come from.  And, quite frankly, I didn't care.  Beautiful in all its delicate simplicity, its migration to my rough flowerbed had been a true act of wildness – what my so-called wildflower garden is all about.
As a three-year experiment, my wildflower garden has been something of a disappointment.  I expected an explosion of lush, floral wildness, but got a patchy, hardscrabble, weed-ridden plot instead.  By comparison, the domestic flowerbed in my front yard is a riot of color and beauty – carefully attended to by you-know-who.
I hacked the belligerent bindweed from the backyard garden, removed the timothy, maple saplings and unsightly dandelions, and cast bags of wildflower seeds into the plot, but to no avail.  At long last, I have agreed with my wife that it's time to till it all over, and carefully cultivate the garden from scratch.  But I will miss the occasional newcomer.
Earlier this year, a patch of forget-me-nots broke into bloom amid the weeds.  Again, a newcomer from god-knows-where.  It has happened before, and I'm sure it would happen again if I left well enough alone.  But the hand of the cultivator is rarely idle, is it?
There is a lesson in all this, I'm sure, but I think I'll just leave it hanging and let you, dear reader, draw your own conclusions.  After all, any legitimate philosophy of the wild is rooted in precisely that which is left unspoken.