Jun 04 2011


Walt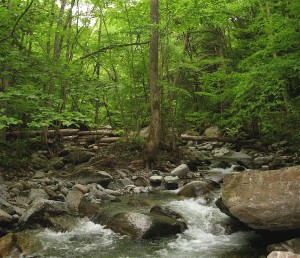 There are times when I like to stretch my legs and break a good sweat.  Then there are times when I just need a walk in the woods.  The other day was the latter, and it couldn't have been a better day for it.  Cool, overcast and breezy – ideal weather for walking.
I went to Honey Hollow, a favorite haunt of mine deep in the Green Mountains.  After parking the car, I walked up the narrow dirt road reaching into the woods until I came to a red gate.  On the other side of that gate a jeep track swept down to Preston Brook and disappeared into a clearing with a single wild apple tree in it.  From there I bushwhacked upstream, savoring the lush green vegetation all around me.  At one point I passed through chest-high ferns.  Yeah, rooted things love all the water we've gotten lately.
The stream was surprisingly low and clear considering the recent downpours.  I saw two small brook trout dash across a shallow pool and for a moment regretted not bringing my fly rod.  But that's okay, I told myself.  Sometimes it's best just to walk the brook.
My dog Matika cavorted all over the place, happy to be running wild after a long stretch of days stuck at home.  I was happy, too.  It's like that sometimes, now that I've gone back to working full-time.  Limited access makes time in the woods that much more precious.
I walked along the brook so slowly and quietly that I spooked a deer resting behind a downed birch.  Matika smelled the creature seconds after it had leaped away.  No contact, though.  The roar of the brook screened predator from prey.
I marveled at the high-water mark several feet above the quiet stream.  The washed-out banks, woody debris, and other indications of flooding took me somewhat by surprise.  Hard to imagine that much water passing through this little valley.  But wild nature is funny that way.  Its gentle disposition most days belies its latent power.
A couple miles back, I came to a favorite rock next to the brook where I like to sit and meditate.  The mosquitoes were out in force, though, so I didn't stay there beyond a quick lunch.  I followed a game trail back to the dirt road and walked out as slowly as possible.  This walking reverie was meditation enough.  Not as much as desired, but enough for now.  Then I returned to my car wondering when I'd get back into the woods again.  In due time, I'm sure.
No responses yet