Jun 25 2021


Walt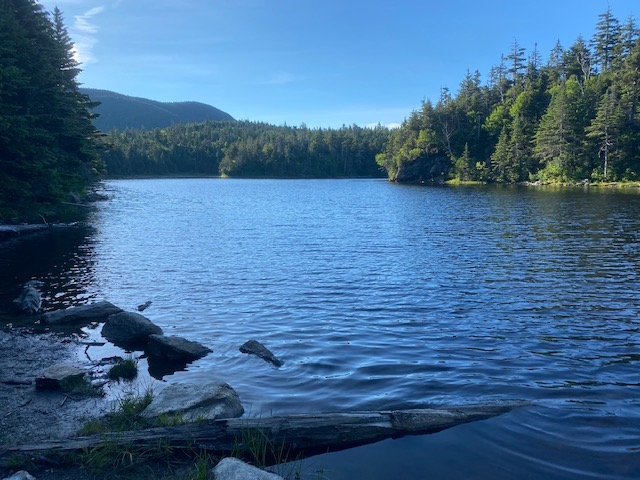 After a steep, one-mile hike, I arrive at Sterling Pond just as the sun is cresting Madonna Peak. I've come here early to fly fish the pond before the crowd arrives. Situated between two ski resorts and a well-beaten path out of Smuggler's Notch, this is a popular place. But I haven't been here in years so thought I'd check it out. I've done well fishing this pond for brook trout in the past.
Water laps to shore as a gentle breeze rocks the conifers surrounding the pond. Chickadees and veerys call out, otherwise it's very quiet here. I cast a dry fly repeatedly upon the pond's surface then switch to a wet one. No result either way. The trout aren't rising. But with temps in the 60s, a blue sky overhead and no mosquitoes or black flies, I don't really care.
I hike to the far end of the pond and try my luck again. Day hikers show up back where I was fishing before but I can barely hear them. I cast for a half an hour or so, then make an entry in my field journal while eating a mid-morning snack. Again, no trout rising.
While hiking the trail around the pond, I try my luck again at a couple other places. Still no action so I pack up my rod and hike towards Spruce Peak. Atop that mountain, I eat lunch while gazing across Smuggler's Notch to Mount Mansfield. No one else is here. And the summer breeze, still blowing steadily, keeps the black flies at bay. I lounge near the edge of a cliff thinking about nothing, nothing at all. I'm happy just being in the moment.
Eventually I leave Spruce Peak then hike down the beaten path to the notch. Dozens of hikers pass me – most of them on their way up to the pond. I step aside, letting them pass. It's early afternoon and I'm in no rush. I've already enjoyed a good day in the mountains, even though I caught no fish.
Comments Off on A Good Day in the Mountains