Apr 18 2019


Walt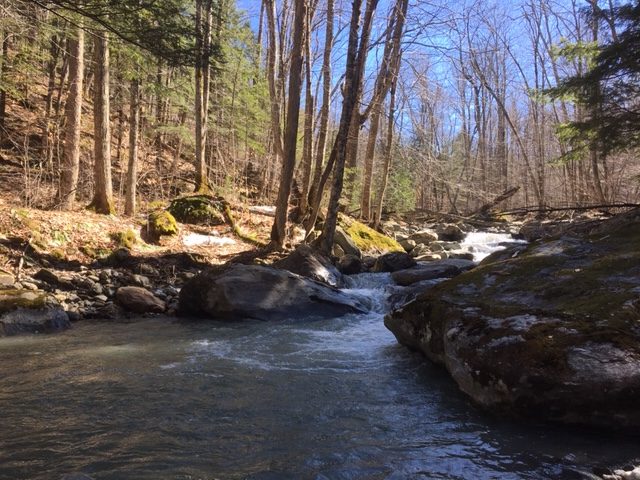 At long last the snow is melting in the mountains, exposing bare ground. I drove to the base of a favorite valley, parked my car then hiked up the narrow dirt road still closed for the season. About a mile back, I left the road, bushwhacking down to the brook. It felt good to have soft earth underfoot, and to see the heavily silted stream shooting downhill, full of snowmelt.
I tramped through the forest with ease despite downed trees and a few remnant patches of snow, following the brook to places where I'd camped in the past. Then came the two mudslides. Usually I would cross the brook, thus avoiding the mudslides, but the brook had too much water in it. So instead I scrambled on all fours across one slide then the other, until I was deep in the valley. That's when I stumbled upon a familiar place – a place I'd forgotten about, a place where I caught a sizable brook trout a long time ago.
I settled into an inviting niche along the edge of the pool, just below a huge slab of moss-covered rock. The sun shined brightly through the clear blue sky. The brook roared as it raced past. With temps in the 50s the gentle wind caressing me felt downright balmy. I drank some water, ate a granola bar, and jotted a few lines in my field journal while soaking in the beauty of the forest in early spring.
There are places, wild places, so familiar to me that they feel like home. Most of these places are located in Vermont's Green Mountains. Some are in the Adirondacks. Upon reaching them, I suddenly get the feeling that everything is right with the world. And whatever was troubling me in the developed places doesn't matter so much. Go figure.
While tramping out of the woods, I reveled in the great wild silence, happy enough just breathing in the clear mountain air. Once again I felt comfortable in my skin. A good hike is like that. A good hike is nothing more than getting back in touch with one's animal self. That is enough.
Comments Off on A Familiar Place