Dec 21 2013


Walt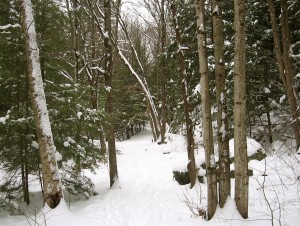 Today is the shortest day. Today winter begins. As someone who loves everything green and growing, not to mention daylight, I find this to be a tough time of year. I am not alone in this.
I believe that the holidays were invented to help us cope with the darkness, and to ease the transition into the cold season. Hope, joy, love, and everything warm and bright indoors – we certainly make the best of things, don't we? I have lights on my house, a decorated tree in my living room, and holiday cards on full display. Yeah, I too take the Winter Solstice seriously.
The other day I went for a walk in the woods. There was enough snow on the ground to cover up the starkness of the landscape and the snow-laden boughs of conifers were easy on the eye. I was chilled at first but exertion got my blood flowing. After a while I started thinking: "This isn't so bad."
Oddly enough, winter is the hardest to take when we are struggling to get from our homes to somewhere else by car or some other mode of fast transportation. On foot, in the woods, it's not so bad at all.
While sitting at home and listening to weather forecasters, it seems like disaster is imminent. The forest tells another story: temperatures rise, then they fall. Storms come, then the sky breaks open. And the seasons cycle round and round.
Winter is nothing to get all stressed out about. Worst case scenario, stay off the road. There's plenty to do indoors. And when the walls start closing in, go for a walk. If nothing else, it'll help you appreciate what your furnace or fireplace provides.