Jul 26 2010


Walt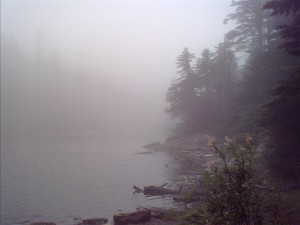 I headed for Smuggler's Notch before dawn, hoping to hike up the short, steep trail to Sterling Pond and fish it before day hikers swarmed out of the nearby resorts.  Stowe is well known as a ski destination in the winter, but in the summertime it is almost as busy.  And the trails surrounding that resort town get a lot of traffic.
I usually avoid busy trails, but the one to Sterling Pond is an exception.  I hike it once a year, drawn to it by the many brook trout at the other end.  Sterling Pond is one of the few bodies of water in Vermont located above three thousand feet.  Wild and beautiful, it is well worth visiting even without a fishing rod.  That is, if the crowd there isn't too dense.
At dawn I parked my car in the notch, grabbed my rucksack and charged up the trail.  My dog, Matika, led the way, of course.  A fierce wind blew through the mountains, making me doubt the wisdom of this outing.  But the weather forecast called for sunny skies later on, so I kept going.
Halfway up the trail, I slipped into the clouds.  That's always a weird feeling.  I broke a sweat in the cool, wet air and kept sweating.  The wind died away.  By the time I reached the pond, the clouds started thinning out.  An unseen morning sun brightened them considerably.  I expected the sky to break open any minute.  But the clouds stayed with me while I fished.
I wasn't really fishing.  It was more like practice casting.  Not one trout rose to the surface.  And when I switched from dry flies to wet ones, there was still no tug at my line.  Yet standing on the edge of that still pond was no less pleasant.  Even Matika got into it, occasionally looking up from her chewed stick to look around.  We had caught Sterling Pond in one of its better moods.  I stopped casting several times just so that I could groove on its wild silence.
Even as I descended the trail back to the parking lot, I braced myself for the hordes of hikers to suddenly appear.  But no one showed.  For the first time ever, I hiked up to Sterling Pond and back without seeing a soul.  Very strange.  As rare as getting skunked there.  Not that I'm complaining.  No people, no fish.  Not what I expected, but a good trade-off all the same.
Comments Off on Into the Clouds