Jul 20 2010


Walt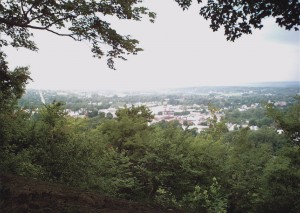 A few days ago, I wanted a taste of the woods but didn't have the time or inclination to drive to the mountains, so I did what I usually do in this situation: I hiked Aldis Hill.  It's just across town – not more than a mile away.  I live the better part of my life in the shadow of it, often forgetting that the wild is no farther away than that.  Not deep-woods wildness, but wildness enough whenever I get the craving.
I'm always amazed at how good it feels to step off the pavement and into that tiny pocket of woods.  It's only half a mile square, with no more than two miles of crisscrossing footpaths.  But on a hot, sunny day, its winding, shaded trail system provides welcome relief.  There I can escape my daily routine for an hour or so.  In that regard, Aldis Hill never disappoints.
Halfway up the hill, there's a lookout cut from the trees.  From it I can see the Adirondacks on the far side of Lake Champlain on a clear day.  But even on an overcast day – or one thick with humidity – the city of Saint Albans sprawls at my feet like a child's model village.  Sometimes I just sit at that lookout, gazing upon the town below as if seeing my life from afar.  A little elevation, along with the stark difference between town and forest, is all I need to detach myself.
While my dog Matika terrorizes squirrels, I compare whatever I was doing a half hour ago to the surrounding woods.  Sure enough, I gain perspective from this.  In deep woods, I bemoan the fact that the wild can't be bottled and taken back home.  But a short hike around Aldis Hill is close enough.
None of this is news, of course, to those who live in the country.  But those of us living in urban areas often forget that a taste of the wild is no farther away than the nearest town forest or city park.  Sometimes a taste of wildness is all we need.  Sometimes a taste is all that's necessary to motivate us to venture farther out.  Many of my grandest outings have germinated in a moment of inspiration on Aldis Hill or someplace like it.  All that's required is a little exposure.
No responses yet