Aug 01 2020


Walt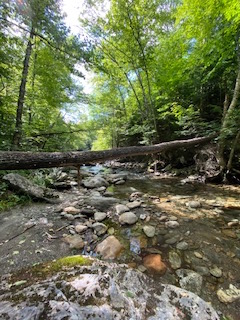 The news is all bad, especially now with the pandemic raging. Judy and I felt it was high time for us to spend a couple days in the woods away from it all. So we packed up our gear and headed for the Breadloaf Wilderness when finally there came a break in the weather, between heat waves and t-storms.
A few weeks ago I scouted the headwaters of the New Haven River, looking for a good place to camp. I found the spot just inside the Breadloaf Wilderness boundary where Judy and I had camped once with our granddaughter Kaylee. That's where we landed.
Kaylee was 6 the last time we camped here. Now she's 23. Time flies.
Judy sat on a large rock, taking in the sights and sounds of the wild forest. I sat nearby, writing in my journal. The stream flowed incessantly before us. A squirrel ran across a fallen tree bridging the stream. The sun sank behind the trees before we started dinner. Soon we were staring into a campfire, surrounded by darkness. Where did the day go?
We went to sleep to the sound of rushing water. A little later I awoke to that and the song of a waterthrush. While sitting on the big rock in predawn light, I watched another squirrel run across the fallen tree bridging the stream. I recalled camping farther upstream with my brother Greg back in the 90s, and remembered a dozen other outings in this wilderness area since then, by myself or with others. Time flies.
When Judy arose, I fixed her a cup of hot tea. She had a rough night. Sleeping on the ground is a lot harder for us 60-somethings than it used to be. So late morning we packed up and hiked out instead of staying another day.
On the way out, I recognized a patch of ground beneath a copse of full-grown maples that had been a clearing when I first hiked through here. That was back in the 80s. Seems like a lifetime ago. Yes indeed, time flies.
Comments Off on Breadloaf Wilderness Revisted