Dec 16 2016


Walt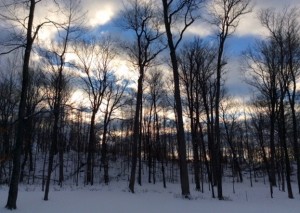 The other day Judy showed me this photo that she recently took out our back door in early morning. "Winter blues" she calls it.
There's a coldness and a darkness to the picture, much in keeping with what many of us are feeling these days, yet there's warmth and light in it as well. Double meaning. Leave it to my wife to capture both moods of this season in one image.
I find the darkness this time of year hard to take, not to mention the bitter cold, but the charm of winter does not escape me. There are times when I marvel at the beauty of illuminated clouds strewn across a deep blue sky, appreciate the clean simplicity of the earth blanketed by fresh snow, and accept the dormancy of leafless trees as Nature's way.
I spot several deer slipping through the forest one morning and suddenly I have nothing to complain about. At the end of any walk I take there's always a warm house with plenty of food in the cupboards. Not everyone has it so easy.
The blues, yes, Judy and I both feel it. We miss the green world, the barefoot days, fresh produce, and those gentle gusts of warm summer air wafting through the window. But that'll all come back soon enough. Nature cycles round and round…
How's that saying go? Curse the darkness or light a candle. There are two ways to approach nearly everything – two entirely different attitudes. Not so much the picture as it is how we look at it. The shortest, darkest day of the year is almost upon us. Then things will swing the other way. And that's reason enough, I think, to celebrate.
Comments Off on Winter Blues