Oct 28 2013


Walt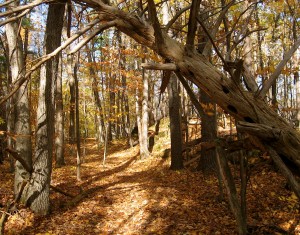 Judy and I were both craving fresh apples so I drove to an orchard in the Champlain Islands today to pick up another bag or two. On the way home, I stopped at Niquette Bay State Park to stretch my legs and run my dog, Matika. With temps in the 40s and mostly grey skies spitting rain, I wore wool clothes for the occasion. Yeah, it has come to this.
The sun played hide-and-go-seek with me as I hiked. I kicked up dried leaves, marveling at the rust brown foliage still clinging to red oaks. Like beeches, oaks give up their leaves reluctantly. I admire that quality.
With tree trunks casting long shadows in mid-afternoon, I couldn't help but think about the approaching dark season. My eyes gravitated to hollowed-out and dead trees still standing and on the ground as I walked. They seem to dominate the forest in the fall, or are they just easier to see now that the canopy is mostly down?
Three days shy of Halloween, death is everywhere, but the skeleton and tombstone decorations are mostly in jest. Children – those immortals among us – are amused by it. Not so much those of us getting up there in years. We are more cheerful and upbeat when the days are long and things are growing all around us. Beyond Halloween is a long, cold season that we must simply endure.
As I finished my walk, I tried hard to be in the moment and enjoy what's left of autumn. But the fresh snow illuminating the Green Mountains and the sleet pelting the windshield of my car as I drove home made it difficult to ignore the obvious. I grabbed an apple and took a big bite. It tasted bittersweet. The last harvest. I both love and hate this time of year.
2 responses so far
2 Responses to "Last Harvest"
Puget Keith

on 29 Oct 2013 at 11:26 pm

1

I am with you in sensing the coming cold and darkness. I also want to say that the last four entry's photos have been lovely. Here in the NW we never quite get that type of colorful scene.

Bob Stanton

on 31 Oct 2013 at 9:22 am

2

Yes, the rattle of leaves left on the beech scrub is one of my favorite wintertime sounds, along with the wind through a white pine.