May 09 2019


Walt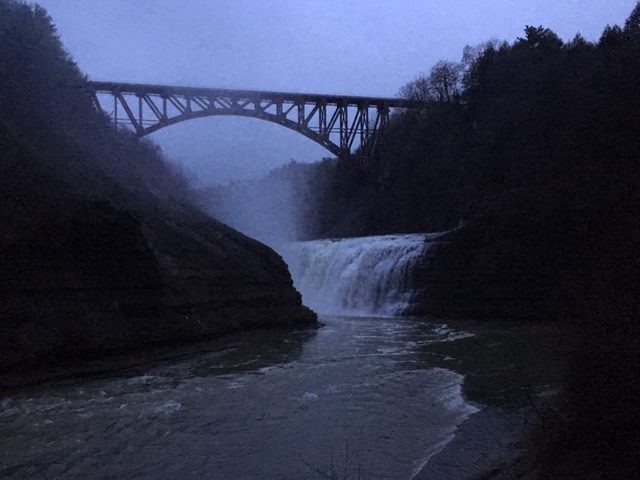 I snuck out of the rustic room at daybreak, refusing the flashlight that Judy sleepily offered. Not necessary. There was ample twilight for me to get around.
The Middle Falls roared nearby. I followed the well-groomed path though its spray on my way to the Upper Falls. A solitary robin called out – its song barely audible above the cascade. A thin drizzle fell from the dark, blue-gray sky.
My mother died while Judy and I were on our way back to Ohio. After a slow deterioration spanning several years, her actual death seemed to come fast. She was 89 years old but had rebounded so many times that the whole family began to think she would live forever. Seeing her remains at the funeral home convinced us otherwise.
Judy and I left four days after arriving in Ohio, then drove to Letchworth State Park in western New York to seek solace in nature. The Glen Iris Inn was full but Judy was able to secure us a room in an outbuilding called Pinewood Lodge. Following dinner at the inn, we enjoyed Middle Falls all lit up after dusk before returning to our room. I had a fitful night all the same.
No one else stirred in early morning as I meandered to Upper Falls. Soon I caught a glimpse of white water tumbling beneath a railroad bridge. I knelt down before the waterfall, accepting its spray along with the drizzle. I thought about how much my mother would have loved it, then cried. No more scenic views for her. She was gone. Yet the water still falls…
After breakfast, Judy and I checked out of the Inn. We took our time driving through Letchworth State Park, admiring the Genesee River snaking through a deep canyon on its way to more gentle terrain. We made our way home via the Finger Lakes, getting on with our lives. But there's a hole in me now that can't be filled. So it goes.
Comments Off on The Solace of Waterfalls