Jul 16 2020


Walt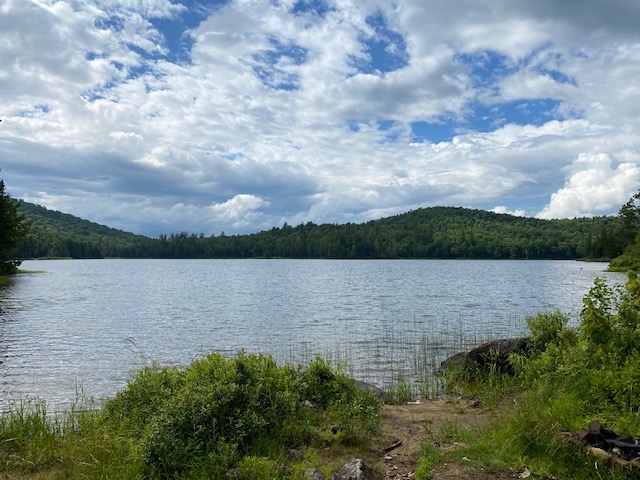 After months of reading and research for a new book of somewhat abstract, philosophical speculation, I figured it was high time for me to venture into deep woods for a while and get real. I loaded my old expedition backpack, scrawled my destination on the white board in the kitchen, then kissed Judy goodbye. The 3-hour drive into the south/central Adirondacks was an easy one. I was on the trail a little after noon.
For many years I have wanted to visit the Siamese Ponds Wilderness. I think about it every time I go back to the West Canada Lakes Wilderness – my favorite haunt immediately to the west. There's no time like the present, I figured, so I hiked the narrow path six miles back to Lower Siamese Pond. It felt good to stretch my legs and work up a good sweat again despite the bloodsucking bugs. One of the scattered t-storms in the area caught me half a mile the pond, but I didn't mind. A cool downpour on a warm day when my t-shirt is already soaked with sweat isn't a bad thing. The rain stopped by the time I reached the pond.
A loon greeted me with its wild call shortly after I reached the pond. I made camp on a knoll out of sight from both the water and the trail. I gathered up some wet wood, stripped the bark from it and had a good campfire blazing a couple hours later. After a late dinner, I walked down to the edge of the pond to groove on the great wild silence as the last bit of twilight faded away. Then I settled into bed as a pair of barred owls hooted back and forth. Loons called out all night long.
First thing in the morning, I went back down to the pond's edge to splash a little water in my face then sit on a rock just looking around, thinking about nothing, nothing at all. Eventually snapping out of that trance, I said out loud: "God, I love the Adirondacks!" Then I returned to camp for a leisurely breakfast. When I was good and ready, I broke camp, packed up and left. I savored the hike out, moving as slowly as possible, stopping once to sit next to the East Branch of the Sacandaga River, which was moving even slower than I was.
Two days later I'm still a little sore, but the overnighter cleared my head. Have returned to my philosophizing and other literary work with renewed vigor. Oh yeah, it's truly amazing what a little time alone in deep woods can do.