Apr 02 2012


Walt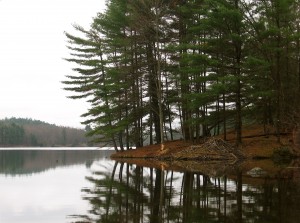 It's a cool, overcast day in early spring. Even though Indian Brook Reservoir is only a few miles from the hubbub of suburban Burlington, Matika and I have the place all to our selves. The ice pellets occasionally spitting from the sky have kept everyone away – that and fact that it's early afternoon on a weekday.
I have the day off from work so I thought I'd run a few errands in town then come out here to decompress. My dog Matika is happy to be in the woods for any reason. We hike to the far side of the reservoir then bushwhack a couple hundred yards off trail to a favorite rocky point where I like to sit and think. It's a good day to do so.
We pass an old beaver lodge right before reaching the point. Plenty of new cuttings nearby. I wonder how long the caretakers of this reservoir will allow the beavers to proliferate before taking action. The longer the better as far as I'm concerned.  I like beavers. They make good company in the woods. Matika jumps on top of the lodge and sniffs around a bit.  Hers is an entirely different perspective, of course.
On the point, I sit on a rock and gaze across still waters reflecting the trees surrounding it. I come to this exact spot every spring to reflect upon events of the past year and quietly celebrate the end of another Vermont winter. A crow caws once in the distance then falls silent. Silence and stillness. Suddenly all my concerns seem trivial in the cool, gray light – all concerns but one that is. I'm another year older than I was the last time I sat here. Time marches on relentlessly.
I get up and walk around a bit. I spot a dead crayfish belly-up in shallow water. The shoots of a few wildflowers have already broken through the forest duff. Birth and death are common themes in the wild. They are clearly apparent everywhere one looks. I am both awed and horrified by it. The world is in a constant state of flux and this all-important "I" of mine is but an aggregate of dust quickly gathered then blown away. Fecundity and flux. Nothing withstands it.
I finish my hike without further reflection. I have things to do. If I dwell much longer upon The Big Picture, I'll get nothing else done today. Perhaps it's best to simply assume that things will go on forever just the way they are. That way we can go about our business as if any of it really matters.
One response so far
One Response to "Reservoir Reflections"
Wow. Poetic, raw, real. And that last sentence is a doozy. I, too, feel compelled to confront the 'big picture' now and again, but am knocked on my arse by it and often made blue.
Sure, so we can sleep at night, we can put a ribbon of palliative thought around it ….