Oct 28 2010


Walt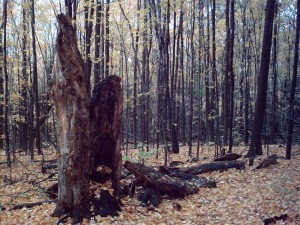 The remnant of a grand old tree still stands at a trail junction in nearby woods where I roam on a regular basis.  I've walked past it fifty times, at least.  Years back, shortly after the tree finally died, the rotting trunk of that tree rose nearly twenty feet from the ground, threatening to fall and crush a passer-by on any given day.  But now it is only the shadow of its former self.  Shadow indeed – a ghost reminding us of a once vital life form, now passed away.
In late autumn, when the trees drop their leaves and the forest turns many shades of brown and dark gray, the remnants of dead and downed trees become more apparent.  This is their time of year, when the growing season has ended and the harvest has been taken in.  Death is in the air.  I am not oblivious to it.  Few woods wanderers are.
All Hallows Eve, or Halloween as it is more commonly known, is only a few days away.  Based on Samhain, the Celtic festival of summer's end, this holiday was hijacked by the Christians during the Middle Ages and transformed into All Saints Day.  And the night before it became All Hallows Eve – a night to venerate the dead.  But that doesn't change the essence of it.  It is a night when the dead mingle with the living, when life and death, vitality and dormancy, abundance and barrenness, darkness and light are in perfect balance.  The forest itself is shouting this at us.
Here in northern Vermont, winter is only a few weeks away.  It comes at us hard and fast – sometimes before we can even rake up our leaves.  Already snow has fallen in the mountains.  Already the wooly worms are dressed for winter and predicting a harsh one.  At the local farm stand, there's an abundance of squashes and gourds, but little else.  The warmer, more vibrant half of the year is behind us.  And like a squirrel gathering nuts, I am hunkering down for the other half.
So go ahead and scoff at those who believe in ghosts if you want.  No doubt the prospect of an afterlife of any sort seems ludicrous to those steeped in science and accustomed to thinking rationally.  But I see ghosts in the forest all the time, and am convinced that death isn't nearly as distant as we think it is.  This time of year, in fact, I can't stop thinking about it.
No responses yet