Sep 11 2011


Walt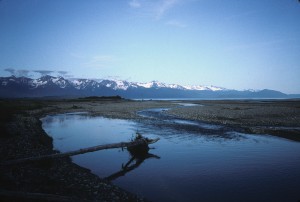 Alaska is one of those places you never forget. In the sumer of '92, I had a bush pilot drop me at a remote airstrip near the mouth of the Endicott River, and there I stayed for two weeks grooving with bears, eagles, ravens and salmon. That was almost twenty years ago.  It seems like yesterday.
Recently my stepson, Matt, started uploading 25-minute podcasts of me reading my book about that trip.  The downloads are free.  To listen to them, go to iTunes and type "arguing with the wind" into the search box.  You should hear echoes of the Alaskan wilderness in my voice.
If you want to know the whole story, you can always read my book: Arguing with the Wind.  It is still available at Amazon.com.  Or you can go to Wood Thrush Books and make other arrangements to acquire a copy.  Either way, it's all there in black and white for anyone who's curious.
Nowadays I'm trying to write about life after the Alaskan bush.  It isn't easy.  I'm having a hard time gaining perspective. That trip was a real game-changer.  And the years before it seem like some kind of hallucination.  A part of me never left the bush, I guess.  It never will.  Once the wild gets under your skin, there's no going back to that other way of looking at things.
Comments Off on Alaska Podcasts