Dec 17 2010


Walt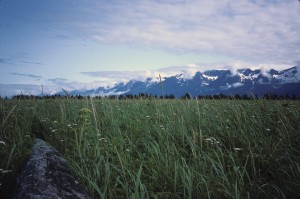 Arguing with the Wind, an account of my two-week sojourn in the wilds of Southeast Alaska, has just been reprinted.  It is available at Amazon.com.  Thanks to the wonders of modern technology, ordering a copy is now as easy as clicking a button.  My modest publishing imprint, Wood Thrush Books, has finally entered the 21st Century.
I still have a few copies of the original edition, published back in 2003, that has an amateurish line drawing on the cover.  But the new edition sports a cover photo of the Kakuhan Range as seen from the coastal meadow near my base camp in the bush.  The book has also been revised ever so slightly and reformatted.  That said, the narrative remains essentially the same.
The big news is that I have recorded myself reading this book in its entirety.  My stepson, Matt, will soon be uploading these recordings to iTunes one or two chapters at a time, where they will be available as podcasts free of charge.  I flashed back to my sojourn in Alaska during the recording, so you might actually hear my gut reactions to the bush in those podcasts.  Although that adventure took place almost two decades ago, I remember the harsh beauty of the Alaskan wilds as if it was yesterday.  Some things you never forget.
I often tell people that a part of me never left the bush, that there's a wildness within me now that won't go away no matter how many times I sit in cafes sipping espresso, listening to modern jazz.  And when I'm deep in an Adirondack or New England wilderness, I quickly go feral.  It can't be helped.  Once you've experienced the world at the most visceral level, there's no going back to the tamer way of seeing things.
At any rate, I am excited by the prospect of this story reaching a much wider audience, and am quite pleased with the products that Matt and I have painstakingly put together.  There is the precious dream of wilderness that flutters through the mind like a fairy, then there is the real thing.  I hope that all of you, readers and listeners alike, get a better sense of the wildness of Alaska as a result of our humble efforts.
No responses yet