Jun 07 2010


Walt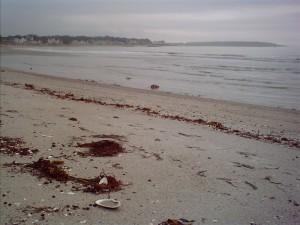 Judy and I took our annual trip to the Maine coast last week.  Per usual, we rented a cottage overlooking a salt marsh.  The view out the cottage window is very comfortable for a woodsy guy like me – all wetland and forest.  But there comes a time when it's best to crawl out of one's comfort zone and see the world in a different way.  So early one morning I hiked the half mile access road to Goose Rocks Beach then walked along water's edge, taking it all in.
On a misty, gray-sky day, the ocean horizon is indistinct, suggesting infinity.  Waves break towards shore, wearing down all conventional notions of time.  I walked the beach, all too aware that my boot prints would soon wash away.  Impermanence.  Only the ocean itself remains fixed in place – a vast body of water stretching beyond imagination.  And yet it too is constantly moving, constantly changing it's mood.
The beach is covered with oceanic debris.  Long rows of aquatic vegetation mark the tide's high water line.  And mixed into it shells, fragments of shells, the body parts of crabs and lobsters, and countless other organics in various stages of decay.  Much like the forest, the shoreline reeks of decay – repulsive to my landlubber nose at first, then oddly sweet and inviting as I recall from whence I came.  The ocean is the wellspring of all life on this planet.  Nowhere is that more apparent than on the beach when the tide is going out.
Sandpipers and plovers fed along the shoreline.  Sand fleas cued them to the most scrumptious morsels.  I skirted a tidal pool that seemed like a buffet to some of the shorebirds.  A gull carried off something.  Just off shore, ducks and eiders dove for breakfast.  Much like the forest, the shoreline ecology is all about food.
Funny how my gaze always starts on the horizon and ends up in the sand at my feet.  I looked for things of interest among the shoreline deposits without knowing how such things are valued.  I found a sand dollar, picked it up, then found another, then another.  The currency of the ocean wild.  My wife values them, anyhow.  So does my granddaughter.  I picked up a particularly interesting shell and stuffed it in my pocket.  I'm not sure why.  What the ocean coughs up is hard to resist.
The waves continued breaking in my head as I hiked back towards the cottage, away from shore.  Even now, days later, I can still hear it.  In my mind's eye, I can still see the foamy edge of the sea washing over the sand, leaving fresh deposits there.  Nature's watery hand is never still.  What am I to make of this?  Perhaps it's best if I make nothing of it at all.  Tabula rasa.  Each new wave wipes the slate clean.
Comments Off on Walking the Beach