Sep 10 2023


Walt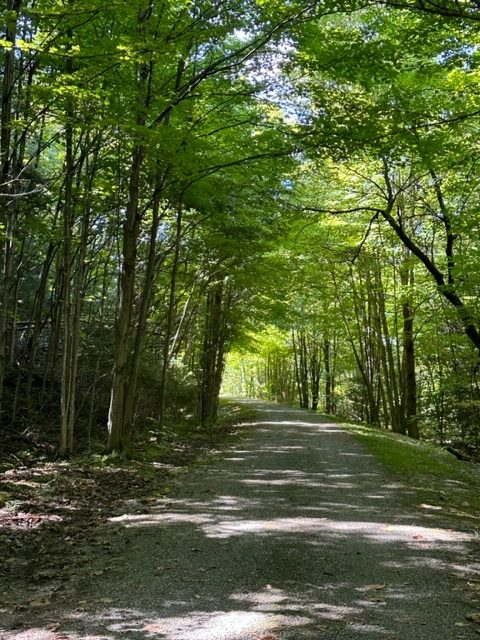 Sometimes walking is a form of meditation, enabling me to center myself. Other times it's an escape from the computer screen – a much-needed break from the cyber world and all its abstractions. Quite often it's form of therapy, working out the kinks in the psyche through sheer physical exertion. But on rare occasion, a walk is just a walk.
Yesterday I walked a section of the Missisquoi Valley Rail Trail about eight miles from my home. I just needed to be outdoors for an hour or so, stretching my legs. I kept a good clip, but not intentionally. I sweated a little, but it wasn't a work out. Not really.
Sometimes I ruminate while I'm walking, digesting difficult philosophical problems. There was none of that this time. Sometimes I daydream while walking, especially during long, lazy walks in high summer. No, not this time. This time I simply walked, as if walking itself is reason enough to be alive.
The Rail Trail – a wide and improved gravel path – is close to being flat. It passes through forest and field, skirting the occasional wetland or housing development, and often runs parallel to a stream or a road of some kind. My favorite section of it is this mostly wooded stretch east out of Greens Corners. I like the way the trees canopy the trail. I find that comforting, as if nature is giving me a great big hug.
Bicyclists cruised past while I was walking. I encountered the occasional dog walker. A hint of color in the trees, goldenrod in full bloom in the sunnier places, poplar leaves quaking in a gentle breeze – not much else to report. Temps in the sixties, which is ideal for walking. Partly cloudy sky overhead. No bugs. The perfect recipe for Saturday morning happiness. No frills.
Comments Off on No Frills Walk