Mar 10 2017


Walt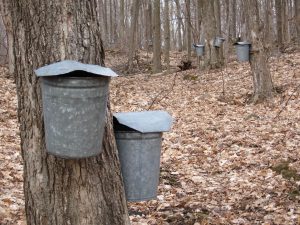 Surprisingly warm, spring-like temps melted off most of the snow in the Champlain Valley earlier this week. It seemed a little premature at the time. Sure enough, an arctic blast just hit the region, promising single-digit temps this weekend. Yeah, March is like that here in the North Country. Freeze and thaw – perfect weather for sugaring.
I went for a short walk in the nearby ten-acre wood this afternoon. Galvanized buckets hang from most of the maple trees over there. My neighbor likes to collect sap the old fashioned way. Taps and lines are how serious maple syrup operations do it these days. That said, I like seeing the buckets. They have a certain rustic charm.
There's snow in the long term forecast, along with rain, more warmth, and more frigid temps. Vermonters grumble but everyone knows this is normal. It's still too early to clean up the yard, but that'll have to be done soon. The buckets are a harbinger of things to come. I've already seen the first migrating geese. And the woodpeckers are busy. Spring is imminent.
My dog Matika and I are both restless. I'm getting over a head cold and more than ready to head for the hills and really stretch my legs. The half-frozen earth underfoot during my short walk was a very good sign. Won't be long before Matika and I get good and muddy.
The days are much longer now than they were in January. The equinox isn't far away. My favorite season is almost here. I'm looking forward to it.
No responses yet