Mar 08 2016


Walt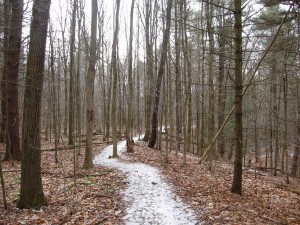 I awoke this morning to light coming through the window, and saw a starling at the bird feeder while I was getting breakfast. After reworking a short narrative about hiking in early spring, I could no longer contain myself. I did the bare minimum work necessary to keep my book business going then flew out the door with Matika's leash in hand. She came running after me, all smiles.
Temps had reached into the mid-40s by the time my dog and I stepped onto the icy trail at Niquette Bay State Park only half an hour from home. A mile out, I stripped off my light jacket and hiked in shirtsleeves as the dusting of snow on the trail underfoot melted away. Two miles out, the frozen mud began to thaw. It was a wonderful thing to behold.
A crow called out in the otherwise quiet woods. I looked up to see patches of blue in a mostly grey sky. The trees were motionless in the still air. I stopped frequently during the hike just to groove on the snowless forest all around me. It was a wonderful thing to behold.
Is it still winter? Do I dare think of this as the beginning of an earlier-than-usual spring? It's a hint of spring to be sure, and for that I am grateful. I am a creature of the warmer months. I've done enough winter ruminating already. So bring it on! Tomorrow, I hear, is going to be a surprisingly warm day. I can't wait.
No responses yet