Sep 26 2015


Walt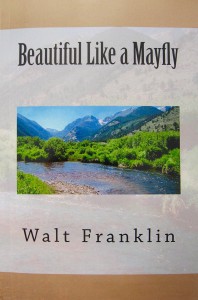 I have just released Walt Franklin's new book, Beautiful Like a Mayfly, under the Wood Thrush Books imprint. As most of you probably know by now, I'm a big fan of his, having published his work repeatedly in years past. In 2014, I reprinted his collection of fly-fishing essays, River's Edge, thus assuring that it would stay in print. This newer work complements that older one.
Beautiful Like a Mayfly is both a travel narrative and a collection of nature essays. Even though it spans four decades, Franklin is reluctant to call it a memoir. Rightly so. It's more a celebration of life lived simply: roaming through Greece and Germany, fly-fishing out west and here in the Northeast, and engaging the world as both a naturalist and a conservationist while always keeping a watchful eye for songbirds. And Franklin gives it all to us with generous helpings of humor, erudition and insight, per usual.
I couldn't be happier about publishing this. While I've been busy cultivating an online bookselling business this past summer, I've pushed this project ahead, one step at a time. Now here it is, the finished product – a fine addition to the Wood Thrush Books list, and a welcome break from a long parade of self-publications.
You can get a copy from Amazon.com or by going to the WTB website, WoodThrushBooks.com. If you are new to Franklin's work and want to sample it first, check out his blog, RivertopRambles. He posts there regularly.