Jan 12 2015


Walt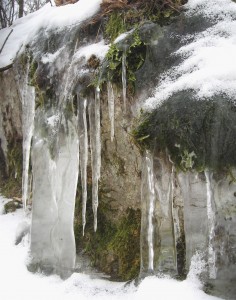 When the holidays are in the rear view mirror and it's too soon to dream about spring, a walk through the woods is just an excuse to get out of the house and blow off those stinky thoughts. I try to do it at least once a week despite whatever's luring me to my writing desk. It's simply a matter of good health.
A snowstorm is coming but I can't wait for it to turn this grey of mine world into a wonderland. I have to get out now. So off I go with my dog Matika to commune with frigid nature.
Entering the woods, I am surprised to find not one or two but three downy woodpeckers hard at work, trying to extract whatever sustenance they can from dead trees. They telegraph survival through the quiet woods. I wish I could direct them somehow to the fatty suet that's dangling outside my kitchen window.
There is a stark beauty to the winter forest, even when hardly any snow covers the ground. It is the same kind of beauty one finds in the desert or at sea year round. Not all beauty is lush and vibrant.
The rivulets that spring from the rocks are suspended in time. They won't run again until temps get above freezing again. God only knows when that will be. But the dangling icicles are magnificent all the same. I revel in it because, well, that's all I have right now – that, the woodpeckers, and the creaky trunks of leafless trees all around me.
Not all the trees are naked. A copse of young beeches still sport hundreds of dry, ochre leaves that rattle in the wind. They sound like the ghosts of last summer. "This too shall pass," they say to me. Yes, I am listening. And with each icy step I take, I move closer to the next warm season.
I am accustomed to winter now, expecting the cold to sting my cheeks and the rime to gather on my beard as I finish my walk. I return home soon enough. A day later, while writing this, I sip tea while watching the snow fall outside. Strangely enough, I prefer this to living in Florida. Go figure.