Feb 03 2011


Walt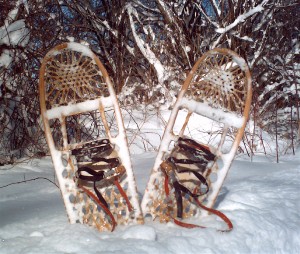 Over a foot of snow fell on northern Vermont yesterday – the tail end of the big storm that rocked half the country.  I spent a good part of the day shoveling it, and there was still plenty more to tackle this morning.
After three more hours of shoveling, you'd think I'd seen enough snow.  But the sky broke open around midday, temps climbed into the high teens and, well, I had a hankering to go snowshoeing.  So that's what I did.
Vermonters aren't easily shaken by the white stuff.  Most of the driveways that I passed on the way to the trailhead had been plowed out, and everyone was pretty much going about their business as usual.  If you can't handle a little snow, then you shouldn't live in Vermont.  So I've learned to adapt.  I take to the woods with my trusty pair of Green Mountain Bear Paws whenever the snow gets knee deep or better.
I started out on a well-groomed snowmobile trail so I really didn't need the snowshoes at first.  But half a mile into the walk, I got a powerful urge to cut fresh tracks across the pristine snow.  Every snowshoeing fool knows that urge well.  I stepped off trail and felt the difference immediately.  My heart was pounding hard five minutes into it.  My dog Matika was delighted by the detour. She leapt through the powder, leaving chest-deep holes in her wake.
Eventually we stumbled upon a fresh deer trail and the going was a little easier.  Until we veered away from it.  When the deer trail headed for a marsh, we opted for higher ground.  We followed a small ridge taking us back the way we came.  And forty minutes after leaving the snowmobile trail, we tagged it again.  A short but sweet excursion.  Just enough clear my head.
Back home now, the sun is setting in a cloudless sky.  Wow.   I haven't done a damned thing all day – nothing that qualifies as productive work, that is.  But snow days are like that.  When a big dump comes, you can either complain about it or embrace it.  Today I chose the latter and thoroughly enjoyed the diversion.  What the heck, I'll get back to work tomorrow.