Mar 16 2011


Walt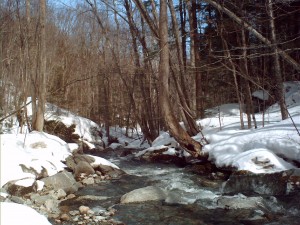 A sunny day with temps in the high 30s.  Good day to head for the hills, so that's what I do after a few hours of desk work.  "Is that a robin?" I ask myself, catching the shadowy shape of one on a rooftop while loading gear into my car.  On second look, it's gone.  Maybe I was just imagining it.  Too early for migrating birds.  After all, there's still a foot of heavy snow on the ground.
Stepping out of my car at the trailhead, I immediately hear the rush of water.  I walk over and, sure enough, there's Preston Brook open and running fast towards the lowlands.  That puts a smile on my face.  I strap snowshoes to my rucksack and shoulder the load.  A trail of hard-packed snow points up Honey Hollow Road – closed for the season to all vehicles.  Then I begin what should be my last winter hike, going deeper into the mountains.
For nearly an hour I trudge steadily uphill, putting one foot in front of the other.  My dog Matika dashes from one sniffing spot to the next.  The woods are full of good smells this time of year.  Hares, squirrels and other forest creatures are awakening and moving about.
When the road levels out a bit, I fasten the snowshoes to my boots and leave the trail.  Matika runs across a thick crust of snow.  I sink no more than an inch into it, pleasantly surprised by this ease of movement.  Good thing.  Soon I'm following the trace of an old skidder trail next to a deeply cut ravine, descending rapidly towards the brook.  It's a bushwhack now, just me, my dog and the trackless wild.
A smile breaks across my face when I spot the brook again.  It is rock-strewn and running hard, but still wide open and as clear as any mountain stream gets on a cloudless day.  The sun burns bright through naked trees, warming my face.  I'm hatless and in shirtsleeves now, yet still breaking a sweat.  Matika catches a scent then so do I.  It's the nearly forgotten smell of the earth just beginning to thaw out.  Several days before the equinox, it is almost but not quite spring.  I caress exposed ferns and moss growing on the side of a huge boulder before following the brook farther downhill.
Matika cavorts about the woods, delirious with the freedom of the hills.  I tramp along as if living a dream.  The warm season is about to unfold in all its muddy, wet, bug-ridden glory.  And that's a prospect that makes me happier than words can say.
No responses yet