May 21 2010


Walt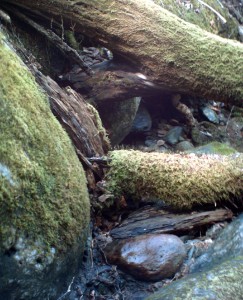 Nature and Existence is now in print.  I've been working on this slender volume for years and am pleased to finally release it under my imprint, Wood Thrush Books.  Weighing-in at only 85 pages, this book packs a big punch for its size, or at least I think it does.  But I'll let you, dear reader, be the judge of that.
While each essay in this book can be taken individually, they should be consumed as a set.  Together they outline a quirky worldview – a philosophy of wildness.  Definitely not for the faint of heart, or for people who think they know how the universe is organized.  But for those of you who have ever gazed deep into the night sky and scratched your head, this book might be of interest.
If a thoughtful, well-written nature essay can be likened to a glass of fine wine, then this is white lightning.  Yeah, sheer moonshine.  Be ready to get drunk with wild ideas.
In this book, I trade in paradoxes, ambiguities and outright contradictions – the stuff of life, not classrooms or churches.  And while I often wield the powerful tool of reason, that's not where I put my faith.  There is too much mystery in nature for it to be grasped by reason alone.  And that's where my argument begins.
Nature and Existence touches upon the known and the unknown, wildness, civilization, the laws of nature (or the lack thereof), Darwinism, cosmology, our relationship to the planet, physical and non-physical realities, the emergence of life, and what it means to be human.  Did I forget anything?
In another time and place, I would have been burned at the stake for writing a book like this.  But nowadays, in the Age of Information, whacked-out ideas like these can easily be ignored.  It's your choice.  Go to http://www.woodthrushbooks.com to learn more about this book, or continue surfing the Internet.
No responses yet