Sep 23 2010


Walt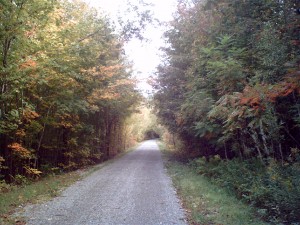 Today I went for the first walk of the season.  Nothing special, just a short walk along the wild, wooded section of the Rail Trail.  My dog, Matika, went with me, of course.  Due to work and other distractions, I haven't been able to get outdoors for a week, so my leisurely amble along the groomed path seemed like a real treat.  Matika ran all over the place as she usually does when she's been cooped up a while.  For her a week can be a long time.
The Autumnal Equinox took place yesterday, signaling the end of summer and the beginning of a cooler, quieter, more colorful season.  For most people, autumn begins right after Labor Day.  That's about when the leaves start turning here in northern Vermont.  That's also when the last really hot days are relegated to memory.  So the Equinox only underscores the obvious.  All the same, I like to get out and celebrate the event.  By this time of year, the red, gold and orange hues of the season are unmistakable.
Crickets chirped incessantly as I walked.  Perhaps they chirp all summer long, but I only seem to notice them in the fall.  Their high-pitched songs sound to me like urgent pleas to make the most of these precious days.  The days are getting shorter now.  Winter isn't far away.
I didn't so much walk as drift along the pathway with my hands in my pockets.  You know how it goes.  A pensive walk, a gradual moving forward despite static inclinations.  I took it all in as I walked: the last flowers blooming, the bleached-out ferns, the turning leaves, and the soft light that's so typical this time of year.  And for moment there I started doing the math, trying to figure out how many times I've walked like this.  Then I let go of it.  Sometimes it's better to ignore the human scale of things and simply enjoy the moment.  A nearby blue jay called out as if to second that motion.
I could have walked much longer than I did, but I turned around and returned to my car instead.  I have a long list of things to do today.  Most importantly, I have to get ready for what hope will be a long and productive writing season.  Tomorrow I return to a book project that I set aside several months ago.  Yeah, I've had my summer fun.  It's autumn now.  It's time to get back to work.
No responses yet