Apr 05 2011


Walt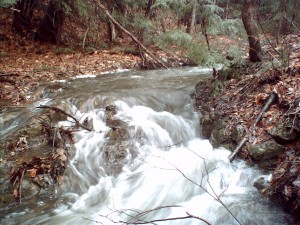 Undaunted by the cold rain falling all day long, my dog Matika and I head for the woods.  Just a short hike in the middle of indoor busy-ness.  No biggie.  I'm excited all the same.  The last of the snow in my front yard melted off yesterday so it looks and feels like spring to me now.  I can see the ground again, anyhow.
This isn't the kind of warm, sunny day that most people fantasize about in late winter but it suits me just fine.  I like the rawness of April here in the North Country – the muddy starkness of it, the roughness, the attitude.  And the dampness doesn't bother me.  With pants tucked into boots, rain jacket over several layers and a waterproof hat, I'm ready for a seasonal baptism.  Bring it on!
The trail is clear for the most part.  There are still patches of snow scattered throughout the woods but my eyes gravitate to the earthy places where evergreen wood ferns are still pressed to the ground amid the leaf litter.  Along the banks of a feeder stream roiling with meltwater, the moss clinging to rocks is slowly coming back to life.  I revel in the steady roar of water rushing downhill.  It is winter's way of saying goodbye.
The temptation to wander through trackless woods is too great.  I leave the trail.  With each step my boots sink into the saturated ground.  Raindrops filter through the trees, falling quietly into ephemeral pools fresh with snowmelt.  In the middle of all this wetness, I squat down for a moment to let it all soak in, literally.  Then I catch a whiff of thawed earth and something stirs deep within.  Matika is wet, happy and running wild through the forest.  So am I.
By the time Matika and I get back to the car, we are soaked.  No matter.  We'll have the rest of the day to dry out and warm up.  The important thing is that we've made an elemental connection with the world, inaugurating the season.  And you can be certain that we'll get out there and romp around again just as soon as we can.
One response so far
One Response to "Getting Wet"
leo

on 10 Apr 2011 at 10:55 am

1

It takes some of us a while longer to awake from our winters hibernation I guess. Opening fishing season just opened last week and as usual it rained all day. No matter, the true die hearts were out in unimaginable numbers, elbow to elbow, casting into the flooded waters.
It must have been refreshing for you Walt to most likely been one of the first to hike that path since last fall…I bet it was.